You are browsing > Events >
[Seminar] TPP/RCEP and Service Industries: Challenges and Opportunities
2014-04-02
The Asia Pacific region plays a very important role in the global economy. Two of the world's most comprehensive trade agreement - Transpacific Partnership and the Regional Comprehensive Economic Partnership is taking place in this region, covering over 30% of global GDP. Members of both TPP and RCEP are Taiwan's important import and export markets. Therefore, it is important for Taiwan to join these trade negotiations to strengthen our economy. In this seminar, we invite experts from this region, including Japan, the U.S., Korea, Singpore and Australia, to share their experiences in participate in regional integration here in the Asia Pacific, and to provide their suggestions to Taiwan.
Date: May 9th , 2014
Venue: S.C. Tsiang Memorial Hall, Chung Hwa Institute for Economic Research (No.75, Chang-Hsing Street., Taipei)
Sponsor: Bureau of Foreign Trade, MOEA
Organizer: Taiwan Coalition of Service Industries, Chung-Hua Institute for Economic Research
Co-organizer: Taiwan Chamber of Commerce, Taipei Chamber of Commerce
Agenda (Draft):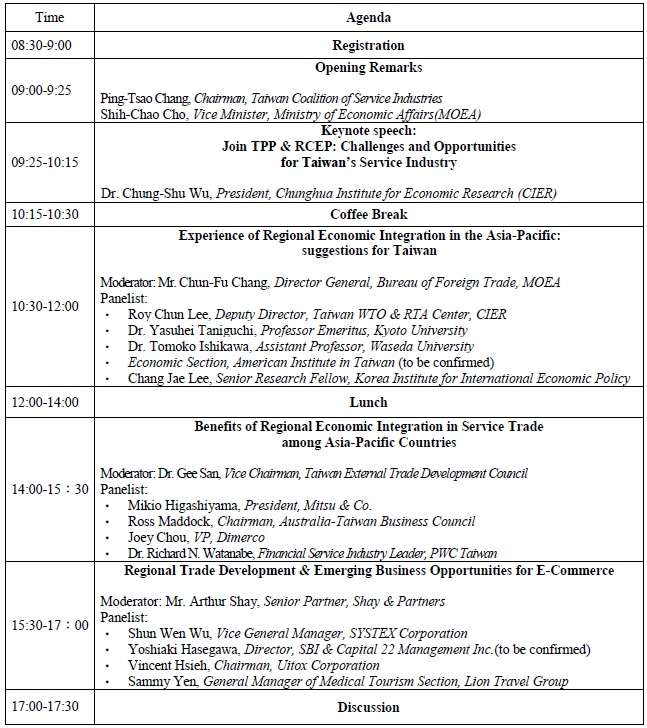 *TWCSI reserves the right to amand the agenda.
** Simultaneous interpretation available.
Registration: Please register online here .
Contact: service@twcsi.org.tw